Café Utne Member Web Ring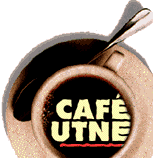 What for?
First the obvious: what is the meaning of this? Why a web ring of this nature?
Café Utne is a place where conversation happens on the internet. A group of diverse and colorful individuals logs on every day to share thoughts, jokes, and information. Many of these individuals have their own websites.
A Web ring is a way to link together members' sites. Web rings mostly cover a certain theme, and the sites that join contribute to a single motif. This ring has no such thematic unity, the two requirements to join being:
that the site be by a person with a membername at Café Utne; and
that the person has a functioning website. (Duh...)


Join this Web Ring
To submit your site to be added to the Ring, follow this link. When you have filled in the blanks on the form, and submitted your info, you will get an automated e-mail message saying that you have been placed in a "queue" of sites waiting to be reviewed.
Being in the queue is not the same as being in the Ring. Also you will receive in your e-mail message the HTML for the Web Ring, to be tastefully displayed on your web page. (You can also do the shortcut of viewing the document source for this page, copying and pasting the webring fragment, then making the appropriate changes.)
Note: Each site submission will be checked, mainly to verify that the Café Utne membername is a valid one. It would be helpful if your site URL is listed on your Utne bio page.

Site Content Parameters
"Hey! Didn't you say...?" Yes, I said...
There are (generally speaking) only two restrictions.
Sites of a pornographic nature will not be a part of this Web Ring. This is nothing against "free expression." It is the ring guide's idea of decency and tastefulness. This restriction does not exclude artistic depictions of the naked human form. I think most prospective joiners understand the difference.
Sites advocating any kind of violence against any segment of the population, or intolerance of others based on supposed differences--these too will not be in the Ring.
(There are so many options available on the internet. If you feel "left out" by these restrictions you can even start your own web ring!)

If you experience problems getting started,

e-mail me.
---
You can start exploring this Ring by going to my own site.
---